GEO-LDN Global Dialogue Forum in November 2023
(no longer accepting applications)
The GEO-LDN Global Dialogue Forum will take place in Cape Town, South Africa, from 2nd to 4th of November 2023. We announced an open call, which is now closed, for country teams with a vested interest in Land-use Planning and achieving Land Degradation Neutrality to join the GEO-LDN Global Dialogue Forum 2023. GEO-LDN is committed to leveraging earth observation data, geospatial technologies, and intersectoral collaboration to address challenges related to integrated land use planning and achieving Land Degradation Neutrality (LDN). In the following you will know more about the details of Global Dialogue Forum.
The GEO-LDN offer in the context of implementing Land Degradation Neutrality (LDN):
GEO-LDN has adopted a toolbox approach to help partner countries to define user needs and develop use cases relevant for them.
We support and capacitate relevant actors in partner countries to use earth observation data to monitor land degradation and work towards LDN. More specifically, our offer includes:
1. Working Groups: GEO-LDN facilitates working groups that develop human capacity, enhance data standards, and analytics required for successful LDN implementation.
2. Secretariat Assistance: The GEO-LDN secretariat, hosted by GIZ, provides continuous support and guidance to partner countries.
3. Access to international expertise: Partnering with reputable organizations like UNCCD, Conservation International, CSIRO and the UENR in Ghana, GEO-LDN offers second-level support from distinguished scientists and practitioners.
4. Funding Opportunities: GEO-LDN provides financial support. For instance, through the Capacity Accelerator Network (CAN) of the Global Partnership, including in-country fellowships.
5. International Post-Graduate Program: The University of Energy and Natural Resources (UENR) in Ghana hosts a dedicated international post-graduate program on LDN.
6. Knowledge Exchange: GEO-LDN facilitates a continuous learning journey through annual global dialogue forums and monthly online seminars, connecting land use planners and geospatial practitioners worldwide.
The GEO-LDN Global Dialogue Forum presents a unique opportunity for country teams to collaborate on integrated land use planning and the pursuit of LDN targets. Successful applicants will not only gain access to valuable resources but also become part of GEO-LDN's long-term learning journey, fostering sustainable development and collaboration among nations.
Country Delegations in 2023:
GEO-LDN issued an open call, inviting country teams from around the world to join us in our commitment to achieving Land Degradation Neutrality (LDN) through the innovative use of Earth observation data and geospatial technologies. Applicants were asked to refer to a specific use case/challenge, present an inter-sectoral and gender sensitive team among other components.
The Response:
We were delighted by the significant response to our call.. GEO-LDN received a total of 59 applications from teams representing 40 different countries. These applications were not just documents; they illustrate the dedication and passion to safeguard our planet's lands and resources.
The Selection Process:
Selecting the teams that would participate in the 2023 GEO-LDN Global Dialogue Forum was a meticulous and thorough process. Each application was reviewed against a set of criteria designed to ensure the highest level of commitment and alignment with our goals:
Completion of LDN Target Setting: We prioritized teams that had already undertaken the crucial process of setting LDN targets, emphasizing the importance of concrete action.
Integrated Land Use Planning: Teams that could demonstrate the integration of Land Use Planning practices in the context of their LDN targets.
Diverse Representation: We sought teams with representation from relevant government institutions, Civil Society Organizations, and a commitment to gender inclusivity.
Legal Frameworks: The existence of legally binding spatial planning processes or development projects involving Integrated Land Use Planning was considered a strong indicator of national commitment.
Program Participation: Applicants who had participated in programs like the Capacity Accelerator Network (CAN) or the second phase of the UNCCD LDN target setting program were favorably evaluated.
The Chosen Fifteen:
After rigorous evaluation and deliberation, we are pleased to announce that 15 exceptional country teams have been selected to be part of the GEO-LDN Global Dialogue Forum. Selected countries are as follows: Kenya, Senegal, Nigeria, Ghana, Belize, Brazil, Bosnia, Democratic Republic of Congo, Mongolia, Iraq, Benin, Ethiopia, Colombia, Armenia and Peru.
We are embarking on a learning journey with these selected teams, fostering collaboration through various means, including providing resources and support, establishing working groups, offering secretariat assistance, facilitating access to international expertise, , implementing an international post-graduate program, and maintaining a dynamic knowledge exchange platform.
Applications 

and

Selected

Countries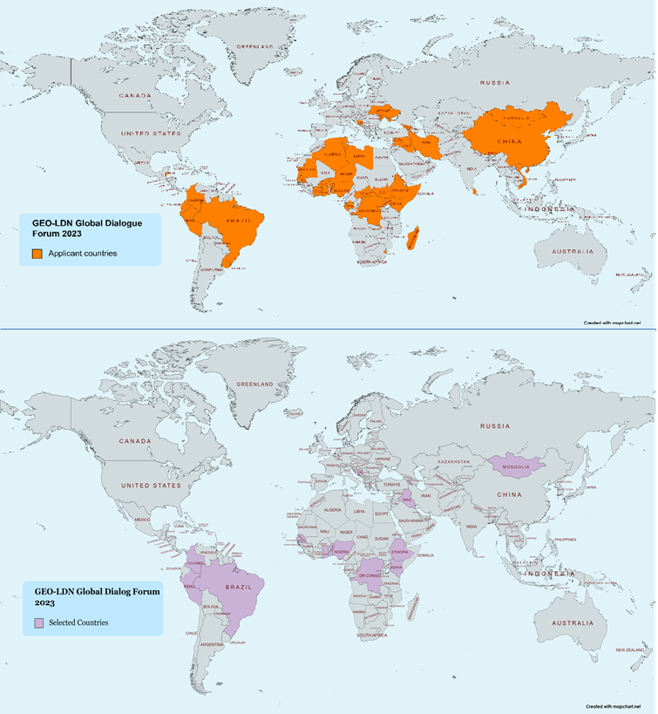 Draft Agenda (
GEO-LDN Global Dialogue Forum 2023)